7 juillet 2009
2
07
/

07
/

juillet
/

2009
09:54
Virganeyce Lyons-Boudreaux and colleagues, from the Department of Pathology of Houston (Texas), recently published a paper** about "Cytologic malignancy versus benignancy: how useful are the newer markers in body fluid cytology?" in the January 2008 issue of Archives of Pathology and Laboratory Medicine (2008 Jan; 132(1): 23-8).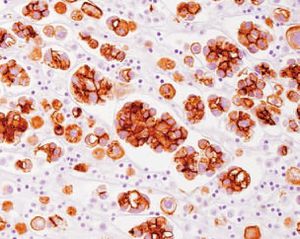 MOC-31 positive adenocarcinoma, membranous staining
Key message: MOC-31 and D2-40 were very sensitive and specific markers of epithelial and mesothelial cells, respectively. Compared with calretinin, D2-40 was a more sensitive marker of mesothelial cells. In the study reported, WT1 proved to be nonspecific.
**Obtained from the Arch. Pathol. Lab. Med. website found on PubMed (http://www.ncbi.nlm.nih.gov/pubmed/)
Published by E-sc@n project